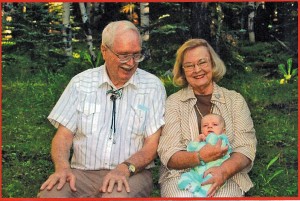 Marcia Ivory and her family were interned at Santo Tomas in 1942 when Marcia was just 13 years of age. Although Marcia and Jean-Marie didn't know each other in the camp, they are in contact with each other today through email, letters, and the telephone. Pictured above are Buck and Marcia (Ivory) Clark with their first great grandchild, Tanner Munro David, in a picture taken at Buck and Marcia's 60th wedding anniversary in Arizona.
_______________________________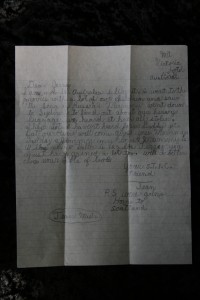 Jean-Marie was close friends with Jean and Bella Muir, two sisters from Scotland who were also interned with their family at Santo Tomas. The letter you see here (click picture to enlarge) was written by Jean Muir to Jean-Marie (Jerry) shortly after the liberation.
The letter reads: Dear Jerry. I am now in Australia. I like it. I went to the movies with a lot of our children and saw "The Song of Russia." Mummy went down to Sydney to find out about our heavy luggage. We heard it had all been stolen. I hope not. I haven't heard from Daddy, yet. But our time will come. Give your Mummy, Daddy, and Jimmy my love. Mummy is 111 lbs. now and Bella is 122 lbs. Jerry you must have gained a lot, too. Well I better close now. Lots of love. Your S.T.I.C. friend. Jean. P.S. We're going home to Scotland.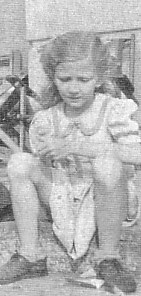 A picture of Jean Muir taken in front of the Main Building right after liberation in February of 1945. (Photo courtesy of Robin Prising, from Lou Gopal's website at www.lougopal.com).
Bella Muir at 19 years of age, and today. (Photos courtesy of Iain Lourie).